Diaper boosters
Share Options
Bambino Mio

Product

04 / 06 / 2023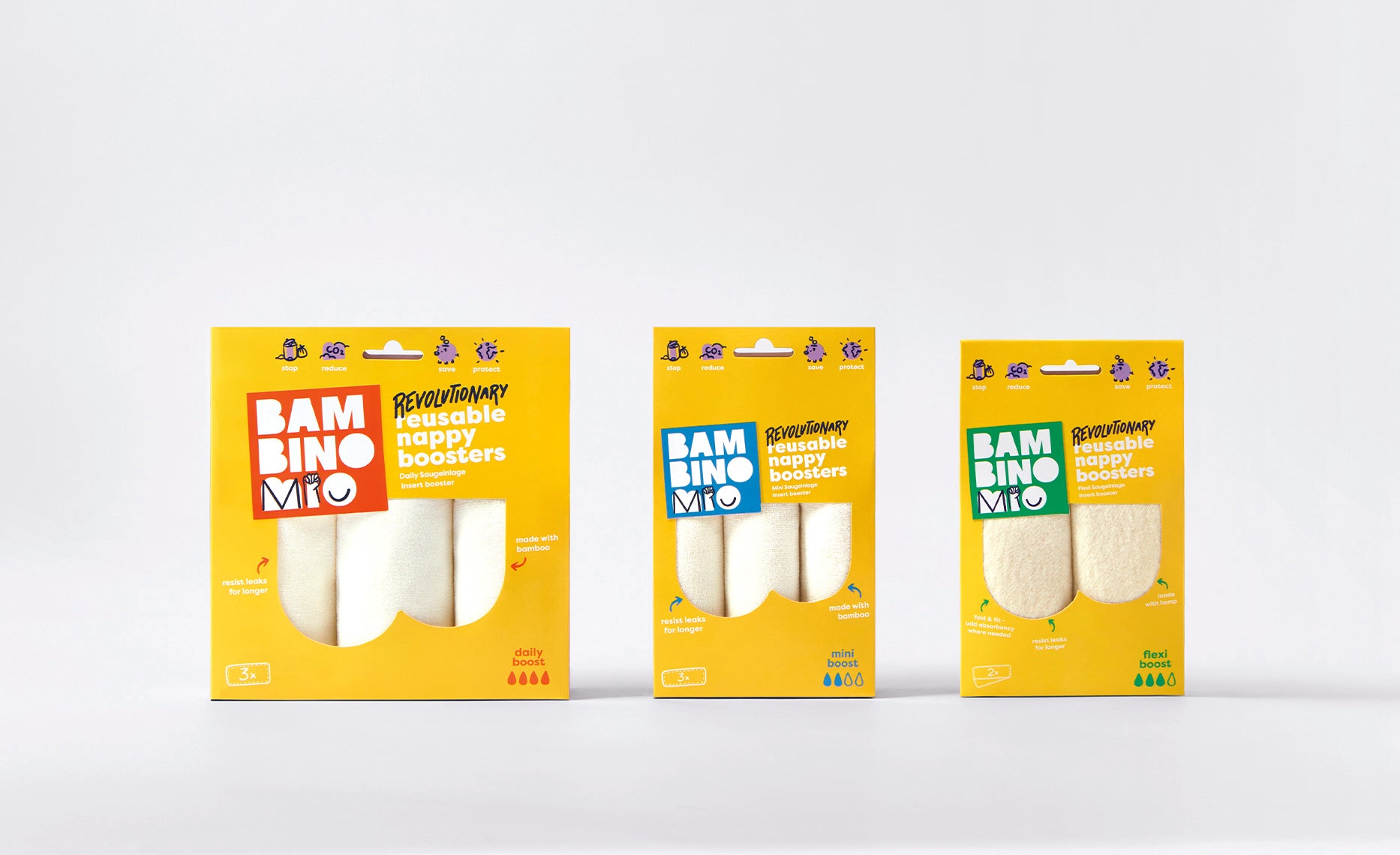 Wet diapers and wastefulness are no fun at all. Boosters safely soak up leaks, protect little bottoms and stop a whole load of rubbish diapers being thrown away.
How do you use diaper boosters?
Simply put, they are a slim piece of fabric that you slide into the pocket of the diaper which allows you to control the absorbency of your diaper depending on your needs.
Why do boosters help?
There are times when some additional absorbency can really help. If your baby is a heavy wetter then a booster will prevent leaks and help your baby stay comfortable. Baby boys can often benefit from a little more absorbency at the front of their diaper, and our flexi boost can be folded to suit. If you baby is starting to sleep through the night or if you are planning on a long car journey, that little extra boost to the diaper will work wonders.
Why are there different types of boosters?
Each baby is different and there are stages throughout their development where it might be handy to have a little more absorbency. We have introduced 3 different types of boosters to give you the ability to choose the level of absorbency you require.
What are the three different boosters?
Mini boost - our lightest booster provides a soft layer of day-to-day protection that won't add bulk to bums. The smart, absorbent layers of bamboo fabric quickly draws in wetness and keep it away from skin.
Daily boost - a great everyday solution that performs well for nights and long journeys too. It's made from absorbent bamboo and quick drying microfibre.
Flexi boost - this clever sidekick is not only made from highly absorbent hemp but it is also extra-long making it the most versatile booster in our range. Fold it into the diaper in the way that works for you; especially great for boys and front-sleepers.
Can boosters be stacked?
YES! Combining boosters can be a great way to achieve the best level of performance and comfort for your baby. Just lay the booster together and slide them into the diaper pocket at the same time.
What are boosters made from?
Thanks to their super-soaking abilities, natural materials such as cotton, hemp and bamboo make the best absorbers. Our range of three boosters include these three key materials.
How do I decide which booster to use?
Our boosters are designed to be used and stacked in whichever way works best for you however we have pulled together some guidance to give you a head start.
How do I use boosters?
To prepare your diapers to be worn, slide the booster into the diaper's inner pocket.
At change time, remove the booster and store for three days at most.
Wash along with your diapers at 104°F.
Air dry or tumble dry on low.